More and more people are doing their nails at home. Everything you need from polishes, gels, and manicure tools are available for purchase on the internet. Not sure how to do your own professional looking manicure and polish at home? There are many sites that have information and guides to show you how to take stunning scenery, shimmering nails at home. Today we show how do your nails yourself; your friends will think you just treated yourself to a polish and manicure at the nail salon.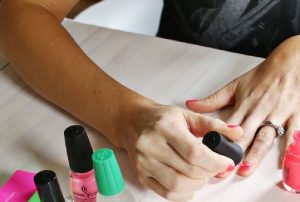 Image: Pucebeauty.com
Items You Will Need for A Professional Polish Manicure at Home
There are several items you will need to do your gel polish manicure at home:
Gel Base Coat
Gel Top Coat
Nail Cleaner
Gel Nail Polish
UV Light or LED Light
Nail Bonder
Cuticle Oil
Lint-free nail wipes
Fine nail buffer block
Most of these items are available at your nail supply store, like DTK Nail Supply
Proper Application
Removal of all nail polish and cleaning the nails thoroughly.
Soak your nails in a solution of warm water. This soaking will soften the cuticle area surrounding the nail plate
Push the nail cuticle back surrounding the nail plate.
With a 240-grit nail file shape the nail.
Using a nail buffer block buff, the nail lightly.
Using your nail cleaner and a lint-free wipe remove all dust off the nails and wipe the nail with nail cleaner.
Apply your nail base coat with a light application making sure to seal the edges of the nail. Be careful that the base coat gel does not touch the cuticle. If the gel does touch the cuticle, later you can remove the residue with a wood cuticle stick.
Now it's time to cure your nails. Place all your fingers in your UV nail lamp for one minute or LED lamp for thirty seconds.
Apply a thin application of kiara sky gel polish Color from cuticle to free edge, making sure to seal the edges.
Again, place all your fingers in your UV lamp for two to three minutes or thirty seconds for an LED light.
Apply the Gel Polish to the nails again and repeat the drying under your UV lamp or LED light.
Using your Gel Polish Top Coat apply a light coat from cuticle to free edge.
Place the hands in the UV light for two minutes or thirty seconds for LED light.
Remove any tacky top coat residue with nail cleaner and lint-free wipes.
Using cuticle oil massage, the cuticle oil to the skin surrounding the nail. This oil keeps the cuticle soft and nourished.
Clean and disinfect your instruments thoroughly if previously used for other people. This sterilization process will help you avoid of nail fungal treatment due to infection from previous users.
Summary
No longer do you have to spend your valuable time and your hard-earned money paying expensive prices to have a great-looking, stunning set of nails. Just follow these suggested steps and before you know it, everyone will be asking what nail salon did your fabulous looking nails! Your friends will be amazed when you tell them you did them at home!