Marble nails are the latest trend in nail fashion and when we say marble nail, it is safe to say that it is a work of art. The design might look very complicated but the truth is, you can achieve this look even without visiting the nail salon. Marble nails can be worn in any color and shapes and if you are looking for new designs to try, we have something for you.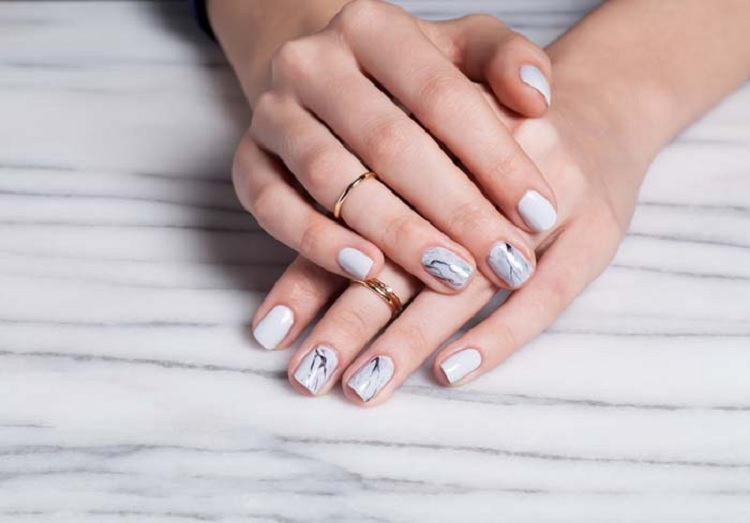 These designs features glitters and different colors, because why not? Glitters can turn something from dull to fabulous and there is no overdoing so let's get started with those elegant metallic designs.
Golden Marble Nail Design
Marble itself is elegance enough but if you put a touch of gold in it? That is extravagant. You don't need to coat the entire nail bed with gold, just splatter a little using a fan brush and fasten it with LDS Liquid Sealer Dry. Create marble veins using black and white polish and you now have an expensive looking marble nail design on your hands.
Shimmering Green Marble Design
Love the design but don't want to look too ostentatious? Well you can change the look by using LDS SC05 It's a Goodkind of Madness. This is a combination of silver and green glitters so it is easy on the eye. Same procedure, don't cover the entire nail bed rather put all the glitz on the side then create a marble veins effect using white and black DND polish. The use of LDS Base Powder and LDS Clear Powder will give your nails the fortification it needs to make it long lasting.
Gold-Purple Mermaid Marble Nail Design
Have you ever wondered how does a mermaid tail look close up? Well, none of us has seen one but it doesn't mean we will stop wondering. You can create your own mermaid tail on your nails and since it was a fictional character, you can create your own mermaid tail the way you want it. You can start with this design where we combined purple and gold glitz. To achieve this coat the first half of the nail using LDS SC09 And The Adventure Begins and the other half with LDS 162 Champagne. Seal the glitz using LDS Liquid Gel Base then create waves and mermaid tail design using white polish and detailing brush. If you are feeling a bit crafty, you can choose accentuate it with big round details that can be found in LDS SC09 And The Adventure Begins and that's it, your nails are now picturesque as it can be. To ensure that the design on your nails will be in place longer, curing it under the UV/LED Light for 30 seconds won't hurt.